This hasn't proved to be the year to expand my country count. The last trip to the Bosphorus, which while entertaining in hindsight, was certainly an epic fail in flying up to the Baltic region. I was beginning to wonder if a future endeavor this year might be cursed. This time around, for both security (and maybe a touch of superstition), I kept the itinerary known to only a couple of people. Like… literally only two people knew about this trip. Surprise, bitches!
I'll post this in segments, as it's proven to be quite the adventure, from start to finish. The main tickets are some nice round-trip bookings to Istanbul, although we absolutely won't be spending any time there. Both of us have had our fill of Turkey for 2020. As coy as spending Thanksgiving there would be, that is definitely NOT the plan. The Istanbul booking was made separately from the flights to our actual planned destination. These bookings were kept separate for a few reasons, but the main one is that our desired destination is not serviced by United Airlines and would have raised the ticket price by orders of magnitude. As it is right now, you can fly business class to Istanbul for very reasonable prices.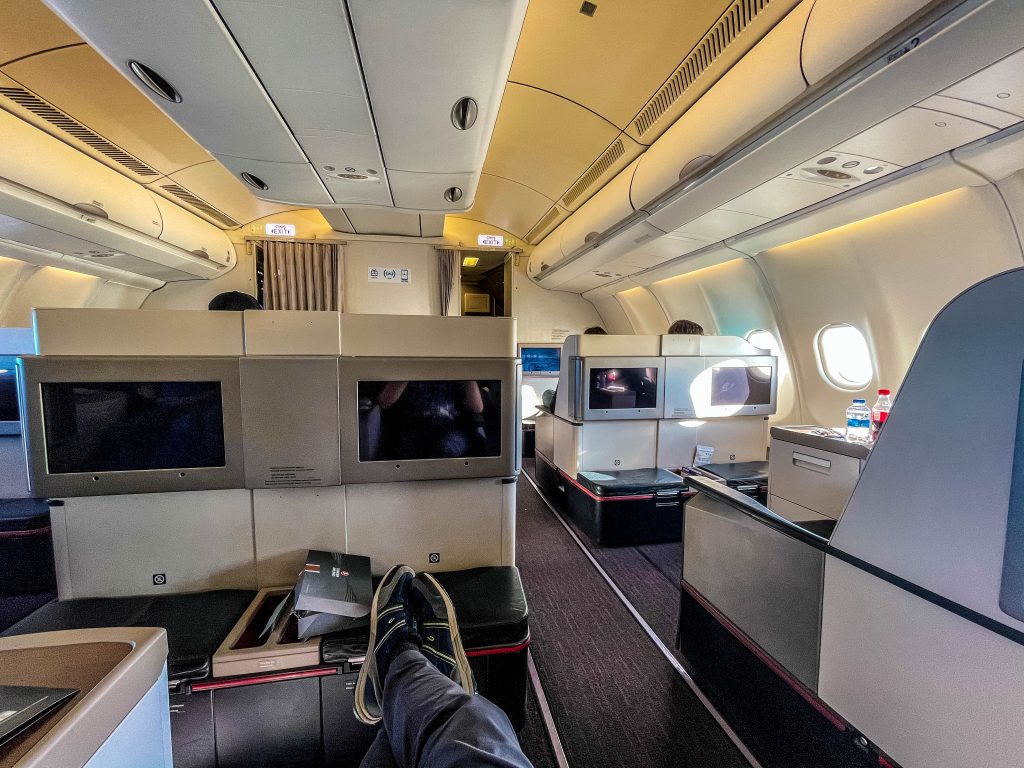 The reason we flew to Istanbul was threefold: no Covid restrictions, our visas are still valid, and there are (normally) daily flights to our desired destination from there. Of course, 2020 being what it is, things weren't going to go as smoothly as planned…
Our original itinerary had us landing in Istanbul in mid-afternoon (local time) and taking a direct flight to our final destination at around 1 am. When we went to the Turkish Airlines transfer desk, the nature of the banter from the couple of chuckleheads there immediately told me that something was amiss. What could it be? We had our visas. There were no Covid restrictions there. What??? Chucklehead #1 tells me, finally, that our flight was cancelled two weeks ago. I've been down this road before, and no, they didn't notify me, and they damn sure didn't refund anything.
In this scenario, Turkish Airlines would've been all too happy to just fly us back home. We had purchased "full fare" economy tickets though (for status credit), so we had a bit of flexibility to demand that they adjust our itinerary, including using codeshare flights.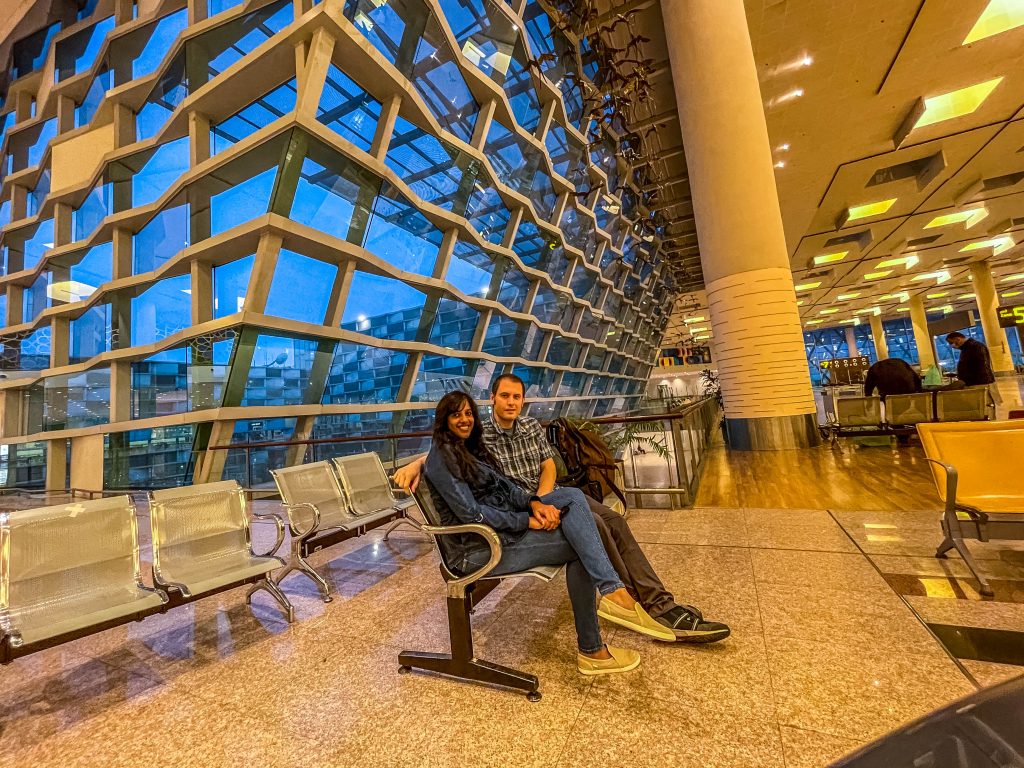 And that's how we found ourselves on a flight to Islamabad. Pakistan visas aren't exactly easy. We're two Americans, one of Indian birth, and our final destination…. we'll get to that in the next post. Bottom line: we were gonna look suspicious AF. Also, normally you need a Covid-negative PCR to roll up into Pakistan. We were subverting all of these things because we were just connecting through Islamabad. You would think this would be straightforward, but you would be wrong. Now, the "transit visa" that Pakistan issues did raise a lot of hackles in Istanbul. Here's the tea on that: it's good for 72 hours and it's for if you LEAVE the airport. Same goes for the Covid requirements. But once we arrived in Islamabad early in the morning, it became clear that very, very few people fly through there (at least these days) to make international connections. That part of the airport was actually roped off. We were the two lone souls that weren't there being processed through immigration.
The idea before arriving in Islamabad was that I just go to the PIA (Pakistan International Airlines, lol) counter and have our boarding passes printed from the itinerary issued by Turkish Airlines. When that counter eventually opened, after much discussion, this Pakistani uncle that was in charge looked over our papers on Turkish letterhead and said loudly "THESE ARE FAKE TICKETS!" Hours of back and forth between the Turkish counter and the (appropriately named) PIA counter ensued. Eventually, we just bought cash one-way tickets to our destination about twenty minutes before boarding. Sounds fun, right? To be honest, I'm pretty sure the uncle was right though, I don't think Turkish actually "paid" for our codeshare flight. Fuckers.
Boarding passes in hand, we flexed on some privilege and and skipped an enormous immigration line that had formed. Once at our gate, we were in the clear, right? Wrong, bitches. Security personnel sniffed out Shobana and what started out looking like a routine check starting looking much less routine when boarding started. Once out on the tarmac, a group of guys in suits grabbed her and pulled her back. I turned around from the top of the jet bridge to see these guys taking pictures of her passport and questioning her. As minutes passed by, nearly everyone on the plane boarded and I went back down the jet bridge, but before I got to her they scampered off and we were, thankfully, on our way. When they went up to her on the tarmac they had said "Oh, we heard about you"… which, wow. It hadn't even occurred to her that the Indian birth on her US passport had raised eyebrows. But what we also didn't know was that part of the delegation for the Pakistani Prime Minister was on our flight. Knowing that, we were honestly extremely lucky that they didn't just bump us from the flight with no reason.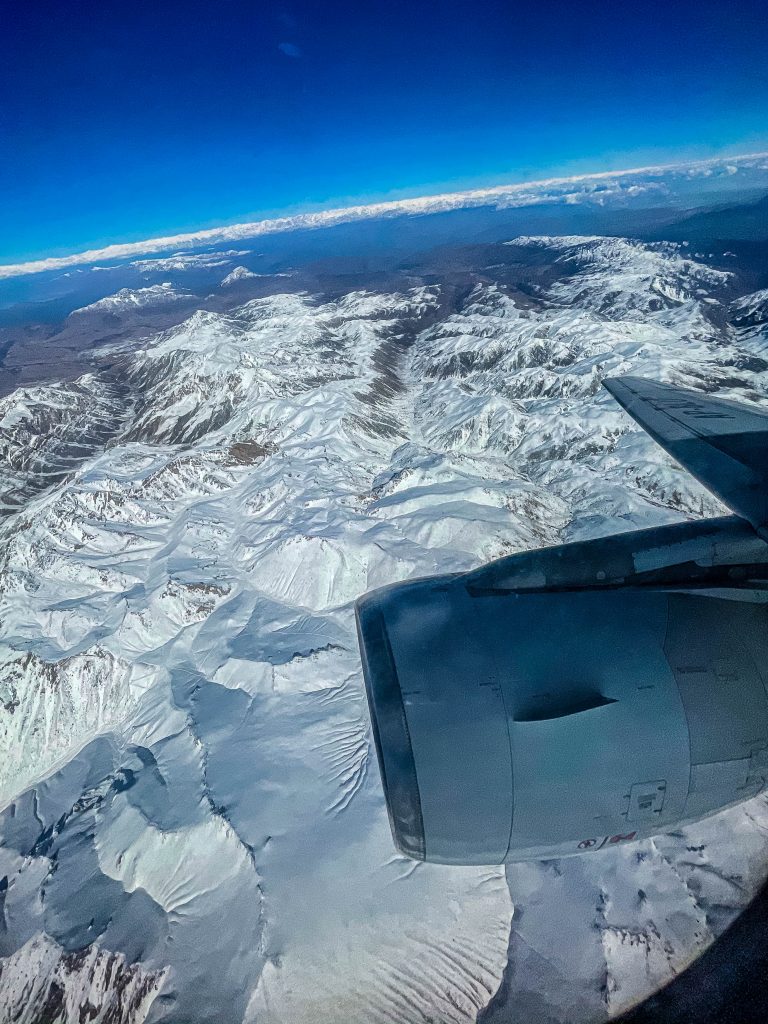 Wheels up, I could finally take a breath, after all the hassle, we were actually on our way to our final destination. If you knew where we were headed, maybe you wouldn't feel the same, but after more than 35 hours and 5 connections, we were ready. Flying out of Islamabad, we were treated to an aerial spectacle that rivaled most anything I've seen. It looked like we were descending as the ground silently swelled up below us. Icy peaks of mountains reached up to the plane. I'm sure some of the higher summits are named, but the range is called the Hindu Kush. After a short time, we arrived. I'll post soon.